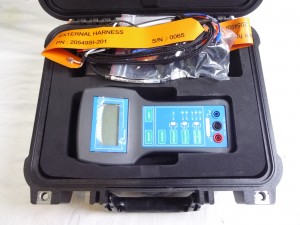 20549SI 回路控制器
P/N 20549SI LOOP CONTROLLER
Introduce:
This tool has as function to measure principal features of aircraft fire detection loop such as the Airbus, Bombardier, ATR 42 & 72's, Boeing, MacDonnel Douglas and BAE aircrafts:

Parallel resistance

Parallel capacitance
It is used during the checking operations of the loops and their wiring aircraft in assembly line (except Thermocoax ©) . It is also used during maintenance on track.
The supported loops are Fenwall© CFD P/N 35xxx-y-255
It provides 3 distinct modes of measurement:
• "CONTINUITY" mode to measure the core continuity(sensitive element).
• "INSULATION" mode to measure Fenwall© loop insulation (Zc)
The Advantages:
1 - The only Loop Controller in accordance with all the technical specifications of the sensor Loop manufacturer FENWALL.
2 - Small, light weight and completely autonomous lending convenience to the assembly line, line and heavy maintenance.
Data Sheet:
FunctionFunctions:
• "CONT" 1 to 99 Ohms mode to measure the core continuity (sensitive element) with precision of 1%.
• "INSUL" mode to measure Fenwall© loop insulation resistance. In this mode, the tool measures the loop parallel capacitance and computes its equivalent impedance at 1 KHz. Zc = 1KOhms (C~156nF) to 5 MOhms (C~31pF) with a full scale precision of 5%. The displayed value is the impedance of parallel capacitance (Zc in Ohms).
•Input measurement:
3 x 4mm banana plugs inputs ( 2 for Continuity measurement connection and 1 for Insulation measurement connection to be combined with 2 others plugs )
•Displays: 
Large LCD displays easy to read with backlight
Ordering Information:

PN: 20549 A LOOP CONTROLLER comprising:
PN20549 A1 Portable measurement tool

PN20549 A5 230/110V battery charger

PN20549 A6 28V cable connection charger

PN20549 A3 Job site cable

PN20549 A2 Tool/Interface connecting cable

PN20549 A4 Storage case

User manual
Volumes & weights:
Tool size: 220 x 115 x 80 mm

Weight: 670g

Power Required: 230/110 AC or 28V for 

battery charger

Autonomy: 8 hours on battery 

continues with 

charger connected
Warranty:
1 year from defects in materials and workmanship under normal use and service
Calibration cycle: 12 months